Canterbury Regional Economic Development Strategy (CREDS)
---
The
Canterbury Regional Economic Development Strategy 2017–19
(CREDS) renews the commitment of the 11 local authorities in Canterbury to work together on economic and social development.
The Mayoral Forum leads this work, mandated by the Canterbury Local Authorities' Triennial Agreement for 2017–19, and supported by the Chief Executives Forum and other regional forums and working groups.
The CREDS for this local government term was launched by the Canterbury Mayoral Forum in June 2017.
Relationship-based collaboration
Working together on the Canterbury Water Management Strategy (CWMS) since 2008 built relationships and trust between local authorities in Canterbury. As relationships developed, councils explored opportunities for shared services on a regional or sub-regional basis and developed a joint three-year work programme.
This in turn laid a foundation for working together on regional economic and social development. The first CREDS was launched in August 2015, focusing on actions to be completed during 2015–16.
Context and drivers
Two key drivers are population ageing and positioning the region's underlying economy for when the rebuild of greater Christchurch is substantially complete.
Population data and analysis for the Canterbury region and its 10 territorial authority areas is available on the regional council website.
A 20-year vision
The guiding vision is: A region making the most of its natural advantages to build a strong, innovative economy with resilient, connected communities and a better way of life for all.
Consistent with a commitment to sustainable water management in the CWMS, Mayors have taken a long-term (20-year) view of sustainable regional development that balances economic, social, cultural and environmental outcomes.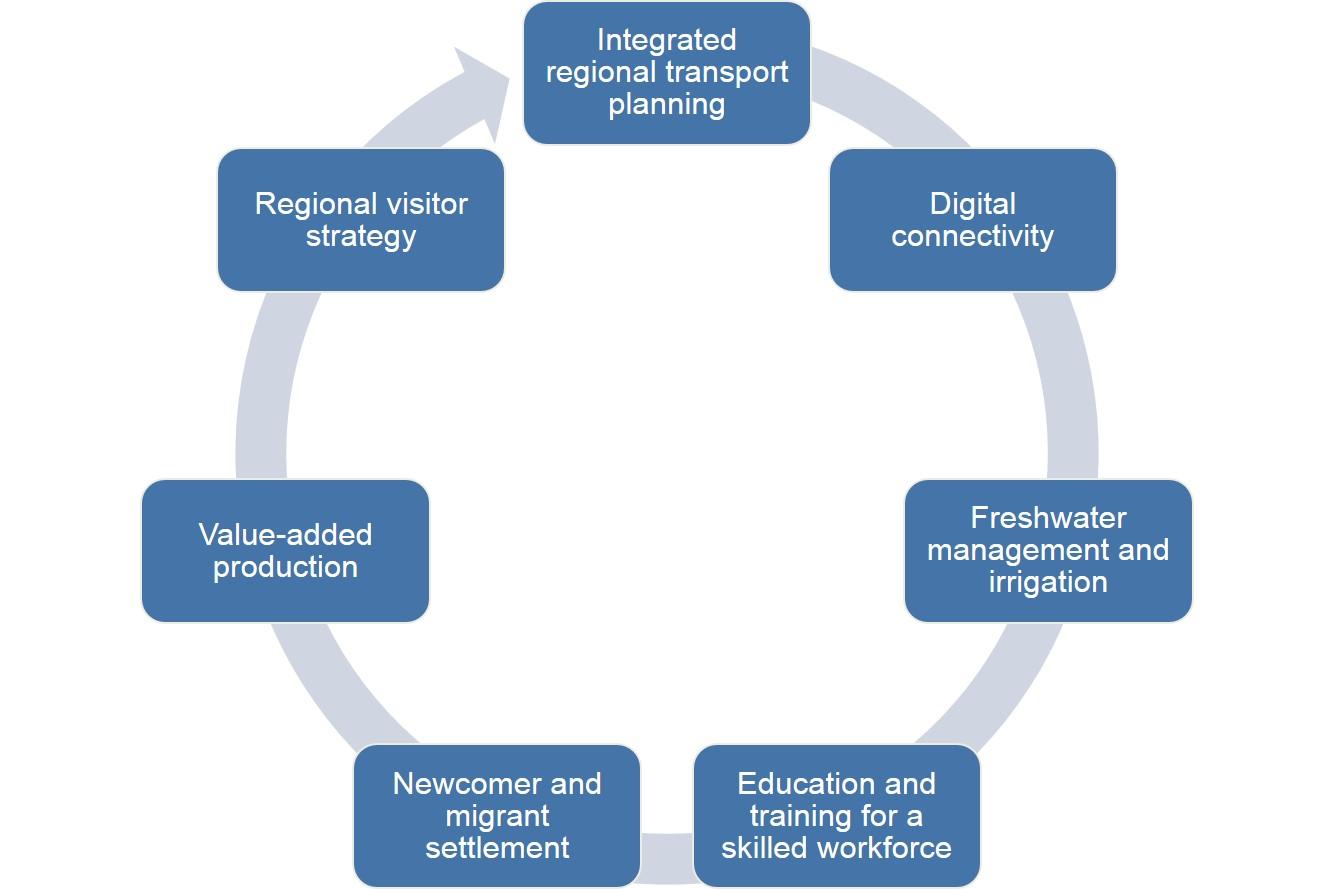 Seven priority work programmes
The seven work programmes cluster around:
infrastructure (integrated, multi-modal regional transport planning; digital connectivity; freshwater management and water infrastructure)
growing social and human capital (education and training for a skilled workforce; newcomer and migrant settlement)
working with industry (value-added production, and regional visitor strategy).
Lead Mayors direct each work programme and provide leadership, facilitation and advocacy across the region. Mayors engage stakeholders with 'skin in the game' to identify and remove barriers, knock on and open doors to opportunities, and advocate for Canterbury and its communities.
Key objectives for 2017–19
The CREDS 2017–19 has four key objectives for this local government term:
position our region for long-term, sustainable prosperity
complete/progress earthquake recovery/rebuild in greater Christchurch and North Canterbury
attract and retain businesses, capital, workers, students and visitors to our region
strengthen and capitalise on interdependencies between the Christchurch and Canterbury economies.
Partners and other key stakeholders
The Mayoral Forum's partners in the CREDS are Te Rūnanga o Ngāi Tahu, the Canterbury Development Corporation, the Canterbury Employers' Chamber of Commerce and the Committee for Canterbury.
A wider group of stakeholders from the farming, manufacturing, tertiary education, business, telecommunications, transport, tourism and welfare sectors comprises the CREDS reference group. This group meets with the Mayoral Forum approximately six monthly to review progress and provide advice on gaps and next steps.
From May 2016, central government partnered with the Mayoral Forum through the Regional Growth Programme, and contributed funding for 11 'accelerator projects' to support CREDS implementation. Since the general election in September 2017 and the formation of the coalition Government, this partnership has continued through the Provincial Growth Fund.
Monitoring and evaluating success
The Canterbury Development Corporation developed baseline economic indicators as at 30 June 2015. ChristchurchNZ, the successor body to the Canterbury Development Corporation, continues to partner with the Mayoral Forum and supports the secretariat to develop an annual indicators report. The Forum reviews these to assess the extent to which its objectives are being achieved, and to identify priorities for further action.